Tales of Three : A Journey to Star Landing
A collaborative project between Lise Hopland, Fred Daelemans and Ânia Marcos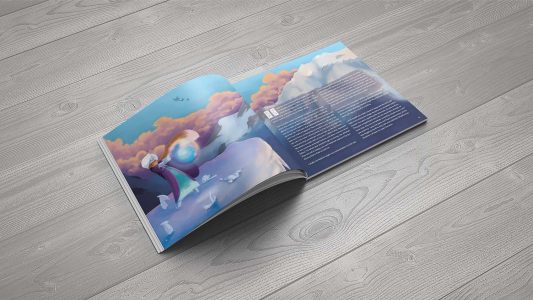 Tales of Three is about facing your fears and overcoming them, it is a story about friendship and connection despite differences…
This book was a personal project that I worked on together with Frederic Daelemans from Belgium and Ânia Marcos from Portugal. We met through an online art class and quickly became great friends. A mutual friend of ours suggested that we would embark upon a project together and see what would come out of it.
The story and the characters are heavily influenced by ourselves and our own experiences. As we believe a story is best written if it has a foundation based on the experience of the storyteller. Their fears have been our own fears. We spent nearly every day after work and art-school, working on this project together. Living in different countries with different time-zones we were depending on online tools such as messenger, google hangout and google documents to work on this collaboration together.
It took us nearly two years from start to finish. From planning, writing, sketching and illustrating to advertising, creating videos and content for the Kickstarter campaign we launched 2016. Which to our delight became a success!
Although every decision was a group effort we split the work so we could all have our individual touch upon the book, but also to make it way more efficient in production. I wrote the story, with plenty of feedback and re-writes. Ânia sketched the thumbnails which we were all going over afterwards, picking out our favourites or combining several in order to make the best composition. Frederic did the gorgeous lineart, and then Ânia and I went over the line art with value studies and colour comps. Once the colours and mood had been chosen, I did the first painting layer which Fred continued to improve adding the details and then we gave it to Ânia to add the finishing touches and texture. 
The story  itself isn't completed, but our lives have changed so much since we did the first book that it is currently unlikely that we shall continue the story.  At least not anytime soon. However, if you are interested in buying the book to view the artwork or reading the story so far, we still have a few copies left.
Feel free to contact me about a purchase, or visit my online shop.
We also have posters of each of the characters and postcards from scenes within the book.